Bookmarks are the pro sweeper's way of organizing their sweeps. They categorize the sweeps based on urgency because they know that they won't be able to get through every sweep every day. Bookmarks allow the pro sweeper to be confident that they can enter their highest priority sweeps.
But bookmarks have a couple of flaws. They don't delete themselves when they expire. They require a lot of clicking. And there isn't a good way to see which sweeps you haven't played yet.
Collections are here to fix those flaws.
We are taking My Sweeps to a whole new level. You can now create Collections of Sweeps. You create your own name for your collections and you can add whichever sweep to the collection that you want. The interface is fast and easy to use. Think of them like Playlists for your music.
When you are using My Sweeps you are focused on Playing and should not be "discovering" new Sweeps, so we have trimmed down the interface to its bare minimum. You have already made the decision to enter these sweepstakes so you don't need all of the information that the primary list has. We have hidden all of the superfluous information and given you only the parts that you need. We added the link icon to allow you to quickly get to the full Sweep record in case you need it for comments or other information.
Let's walk through the new interface.
There is a switch in Settings that allows you to choose which My Sweeps you want to use. Select the Collections choice and you will activate Collections immediately.

The My Sweeps link in the top menu is now the link you need to click to get to Collections. If you click the My Sweeps in the left menu you will have the old My Sweeps you are familiar with.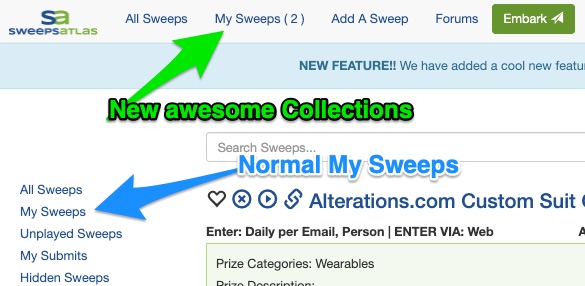 When you click on the My Sweeps in the top menu you will get the new Collections view.

The default view is All Unplayed My Sweeps. You can sort them by Submit Date, Start Date, Expiring, or Name. It will load either 10, 20 or 50 whichever you have set. Embark still works as expected.
The second link on the left is your Unorganized list. This is where all of your current My Sweeps will be located. Click on Unorganized and you can get started with putting your Sweeps in their proper collections. Click on the Heart, this will temporarily remove the Sweep from My Sweeps and give the Sweep an Empty Heart.
The third link is the sole Filter: Unplayed. When you are in one of your Collections you can activate this to see only the Sweeps in that Collection that have not been played.
After you activate Collections, when you click on an Empty Heart you will get a dialog box that allows you to add the Sweep to a specific Collection with one click, or create a new Collection.

As you can see there are two sections. The first is your Recent Collections, this section is updated every time you add a Sweep to a Collection and will show you the five most recently used Collections. This will come in very handy when you are going through new Sweeps and you have already narrowed the search to a specific type of Sweep.
The second section is the All Collections which has all of your Collections in alphabetical order. You are allowed to have as many Collections as you need. One of the mods has 50 collections! To add a Sweep to a collection just click the name of the Collection and the Sweep will be added, the dialog will go away, and the heart will be filled.
When you want to create a new Collection, just click on the New Collection button, which will open up a new section in the dialog.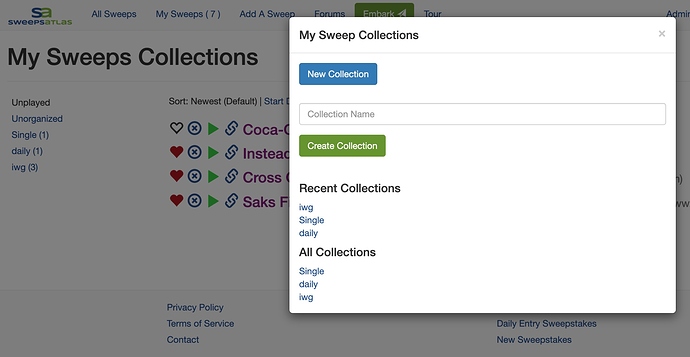 Just type in the name of the new Collection and hit Enter or click Create Collection. This will create a new Collection and add the Sweep to that Collection for you.
The Moderators and I have been working on this feature for a while. I'd like to thank them all for their help in making it better. If you see a way that it can be improved please let me know!
We are really excited about this release. We think it is one of the coolest features in Sweeps Atlas. It should increase your speed of entry, and ensure that you enter the Sweeps that you really want to enter.
If you have any questions, please let us know in the Forums!